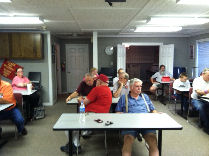 Membership in The Shelby County Amateur Radio Club is open to anyone with an interest in amateur radio. If you are interested in joining SCARC, simply print, complete and mail the Membership Application Form with a check for the the amount of dues indicated in the table below to the following address. Better yet, bring it to a club meeting (see our home page for time and location), we'd love to get to know you!
Shelby County Amateur Radio Club, Inc.
P.O. Box 815
Alabaster, AL 35007
The current membership rates are:

Regular $25
Family $20 per additional family member
Student/Senior $20
Associate $20
Click for a list of current members
---
Join the American Radio Relay League (ARRL) Through the Club!

You may also join the American Radio Relay League, the national association for Amateur Radio, through the Club by downloading this ARRL Membership Application and completing only the lines that contain YOUR information. Then, at the next club meeting, present BOTH pages of it to the Club leadership along with your payment due to ARRL.
If you're already a member of the ARRL, you can adjust your preferences on their site and manage other options by going to the Members Only portion of their web site.