SPECIAL NOTE: The 4th Thursday meetings of November and December have been canceled because of the holidays. Our 2nd Thursday meeting in December will be held Thursday, December 12 at 6:00pm at the First Baptist Church of Alabaster, 903 3rd Avenue NW, Alabaster, AL, 35007. Please see their web site for directions: www.fbcalabaster.org/. If you haven't already, please e-mail Fredia Dillard at fdillard at gmail dot com to see what you can bring. We're asking everyone to bring enough for themselves and whoever comes with them, plus 2-3 extra servings. Meat will be provided by the club.
Welcome!
The Shelby County Amateur Radio Club (SCARC) meets at 7:00pm on the second and fourth Thursdays of each month. Our meeting location is in the Pelham Fire Department Training Center at 663 Stuart Lane. From Highway 31 in Pelham, turn west onto Industrial Park Drive, then left onto Parker Drive, and right onto Stuart Lane. Go to the end of the short road, and we're behind the fenced in area, the gate will be open. Check out this map:
You can usually catch someone on 146.980 MHz (PL 88.5) if you need talk-in. Visitors are always welcome!
Upcoming Events
VE Testing is held the first Sunday of odd-numbered months at 2:00pm at M-Power Ministries, 4022 4th Avenus S, Birmingham, AL 35222. It is also held the first Sunday of even-numbered months at 2:00pm at our regular meeting location on Stuart Lane (see map above). For more information, contact Jim Rogers, W4ATK at 205.982.9466 (h) or 205.919.5441 (c).
Michael Spanos will host a "ham-cram" event, a one-day study-and-license-testing session at your club or other organization. Contact Michael at aragroup.ka4vca@gmail.com or visit the ARA Group's web sitewww.aragroup.org.
W4SHL has Worked All States!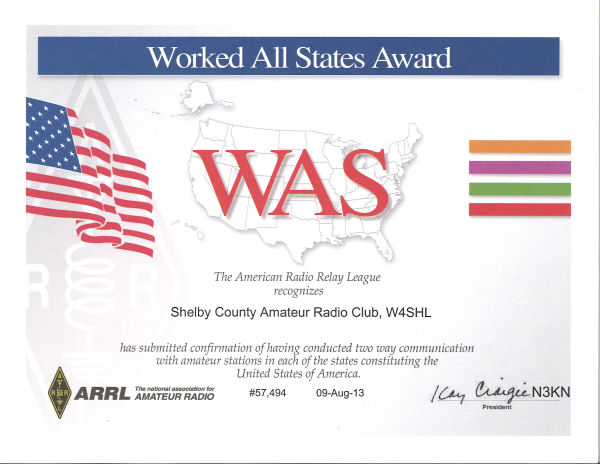 It was announced at our August 22, 2013 club meeting, that our club station, W4SHL, had received its "Worked All States" award. This was accomplished by our die-hard members who plugged away for the last few Field Days, braving summer heat, mosquitos, and the elements to achieve this great award. Thanks to everyone who contributed, and thanks to Joey Ciza, WN4AT, for doing the legwork to get this accomplishment verified. This is really something to be proud of!